Harvard Prize Book Program
Introduce talented young people to the opportunities available at Harvard, and recognize their scholastic and personal achievements through the Harvard Prize Book program. Prize Books are presented annually in more than 2,000 high schools around the world to outstanding students in the next-to-graduating class who demonstrate excellence in scholarship and achievement in other nonacademic areas. The award is often given at the school's graduating exercises, with appropriate remarks by a local alumnus/a. The Prize Book may also be awarded to outstanding high school teachers who inspire curiosity and excellence in their students.
To establish a Prize Book award, a Harvard Club/SIG or Club/SIG member need only contribute the cost of one book. Participating Clubs and SIGs should contact the local high school principal and guidance counselor to introduce the program and to select the student to receive the award. Most Clubs and SIGs choose from titles offered by the HAA, although Clubs and SIGs may choose books not on this list.
There are three books available for presentation as a Harvard Prize Book:



THE HARVARD BOOK, by the late William Bentinck-Smith, is a collection of passages and quotations about Harvard. The revised version of The Harvard Book adds 120 pages to all of the original 1953 material. The book includes passages by Presidents Eliot, Lowell, Conant, and Pusey and narratives of the presidencies of Nathan Pusey and Derek Bok. Contributing writers include John Updike, Theodore H. White, Erich Segal, David Halberstam, Barbara Ward, Jackson Bate, Charles Dickens, Oliver Wendell Holmes, Thomas Wolfe, Cleveland Amory, Alistair Cooke, and Archibald MacLeish. Price: $24.00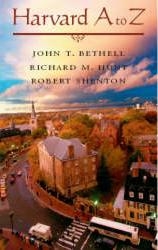 Harvard A-Z, by John T. Bethell AB'54 et al., offers an alphabetical compendium of short, but substantial, essays about Harvard University. The book contains more than two hundred entries written by three Harvard veterans who bring to the task more than 125 years of experience within the University. The entries range from essential facts to no less interesting ephemera—from the Arnold Arboretum designed by Frederick Law Olmsted to the peculiar medical specimens of the Warren Museum; from Arts and Athletics to Towers and Tuition; from the very real environs (Cambridge, Charles River, Quincy Street) to the Harvard of Hollywood and fiction. Price $23.00



Making the Most of College: Students Speak Their Minds, by Richard J. Light PhD '69, offers concrete advice
from his 10 years of interviews with Harvard seniors. Professor Light answers fundamental questions: How do
you choose classes wisely? What is the best way to study? Why do some professors inspire you while others
leave you cold? How can you connect what you're learning in the classroom with the rest of life? Filled with
practical advice, illuminated with stories of real students' self-doubts, failures, discoveries, and hopes, the
book is a handbook for academic and personal success. Price $19.00

Shipping
Orders can be made online. For orders of ten or more books, bulk shipping is included within the continental United States. For domestic orders of one to four books, there is a flat $4.95 shipping charge. For domestic orders of five to nine books, there is a flat $9.95 shipping charge.* International shipments are based on current U.S. Postal Service rates and air charges.
*Please note: Domestic shipping rates are to a single address only. Please email info@thecoop.com for further questions about shipping.

Ordering
Place all orders with The Harvard Coop mail-order by clicking here or by calling Cortney Campbell at (800) 368-1882. For questions about ordering, please contact The Harvard Coop mail-order at (800) 368-1882 or email to ccampbell@thecoop.com.
To learn more about the Prize Book program, view the program brochure here or contact the HAA Clubs and Shared Interest Groups Office at (800) 654-6494 or email clubs@harvard.edu.